eFileMyForms.com is now part of the Sovos family of tax compliance solutions. Our depth of experience in 1099, W-2, and ACA reporting has been boosted with the knowledge and expertise of Sovos to deliver an even smoother eFiling experience for you.
We've completed tax year 2022 form updates and made a number of improvements that we're excited to share with you!
Get things done, faster
We redesigned the entire website which now has a clean, modern look that is easier to navigate, and every to-do is just a click away. Here is a short video that provides an overview of the new and improved site:
In addition, we've have added a new Resources section with blogs, articles and guides to help you prepare for a successful reporting season.
All your tasks — at your fingertips
The new homepage now shows all the forms you're currently working on, no more clicking into multiple menus to find them. From the home page, you can also get to your filers, recipients, imports, and order history with just one click from the top menu. No time wasted during the busy tax season.
The "Add new form" button on the top menu makes this key task instantly available, no matter where you are or what you're doing in eFileMyForms.com. You can also find the cart, account info, and the new help center at the top of every page.
Accessibility is key
We want eFileMyForms.com to offer a user-friendly experience to every customer. As a first step to make it more accessible, we chose a new color palette that makes buttons and texts easier to read. More accessibility improvements will be made continuously.
Streamlined checkout process
We've made it easier than ever to place your order with eFileMyForms.com. Once you've added items to your cart, you'll see a new "Secure Checkout" button that will guide you through the checkout process.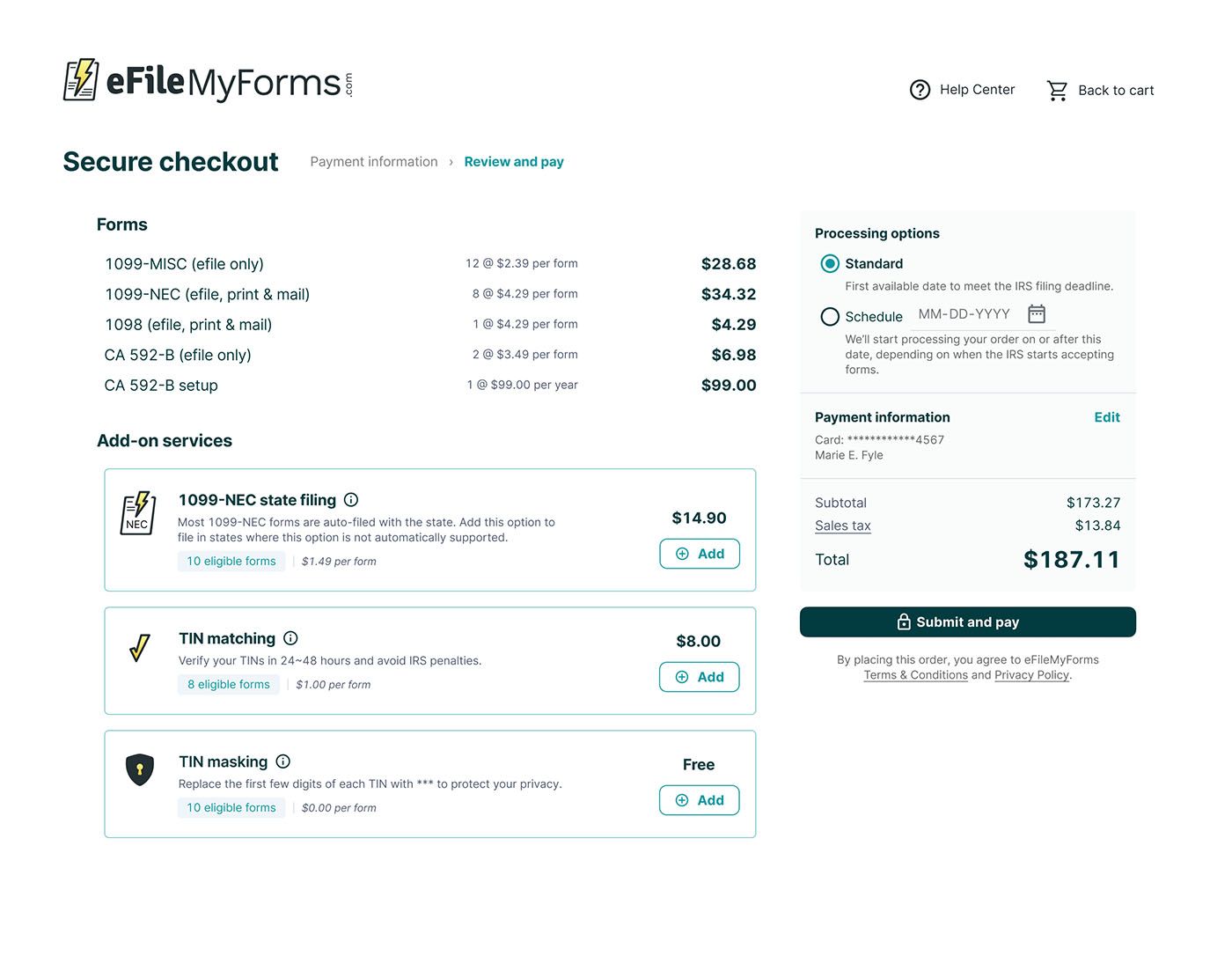 Here are a few of the changes:
If you've been a customer with us for a while, your saved billing information will still be available from your last session. If you need to make changes though, we've made it easier for you to do so.
We've completely redesigned the order review page. It's now much easier to see the types of forms in your order (and any setup fees that may have been applied) and you'll be able to see which state filing, TIN matching and TIN masking options are available to ensure broader compliance.
State Filing Options: ACA and NEC state filing are now separate options. If you file ACA forms and NEC forms at the same time, you can now choose to add state filing for just one, or both. You have options!
Many 1099-NEC state filings are now filed for free as part of the Combined Federal / State Filing program. This means more coverage for you without having to do anything! If you want to expand to file in states that do not participate in this program, add the 1099-NEC Direct State Filing Service on the order review page.
What should I do now?
It's time to get started! Even if you are not quite ready to start your filings, we encourage you to log in now and check out the new home page and explore some of the navigation improvements. If you forgot your password, here are instructions for how to reset. If you still need assistance logging in, please submit a request and one of our Customer Support representatives will be happy to help you.
This is only the beginning — we're committed to making additional, meaningful updates in the future to keep improving your eFiling experience. So, if you have any feedback, send a note to feedback@efilemyforms.com. We'd love to hear from you.
The eFileMyForms Team